October 1, 2017, The Bucks County Women's Journal profiles the Staff at Wendy Webb Schoenewald Physical Therapy and Vestibular Rehabilitation, Doylestown, Bucks County, Pennsylvania.
Thank You, #BCWJ! We're so excited about this article in the latest issue of The Bucks County Women's Journal featuring Wendy Webb Schoenewald Physical Therapy and Vestibular Rehabilitation Staff! #WWSPT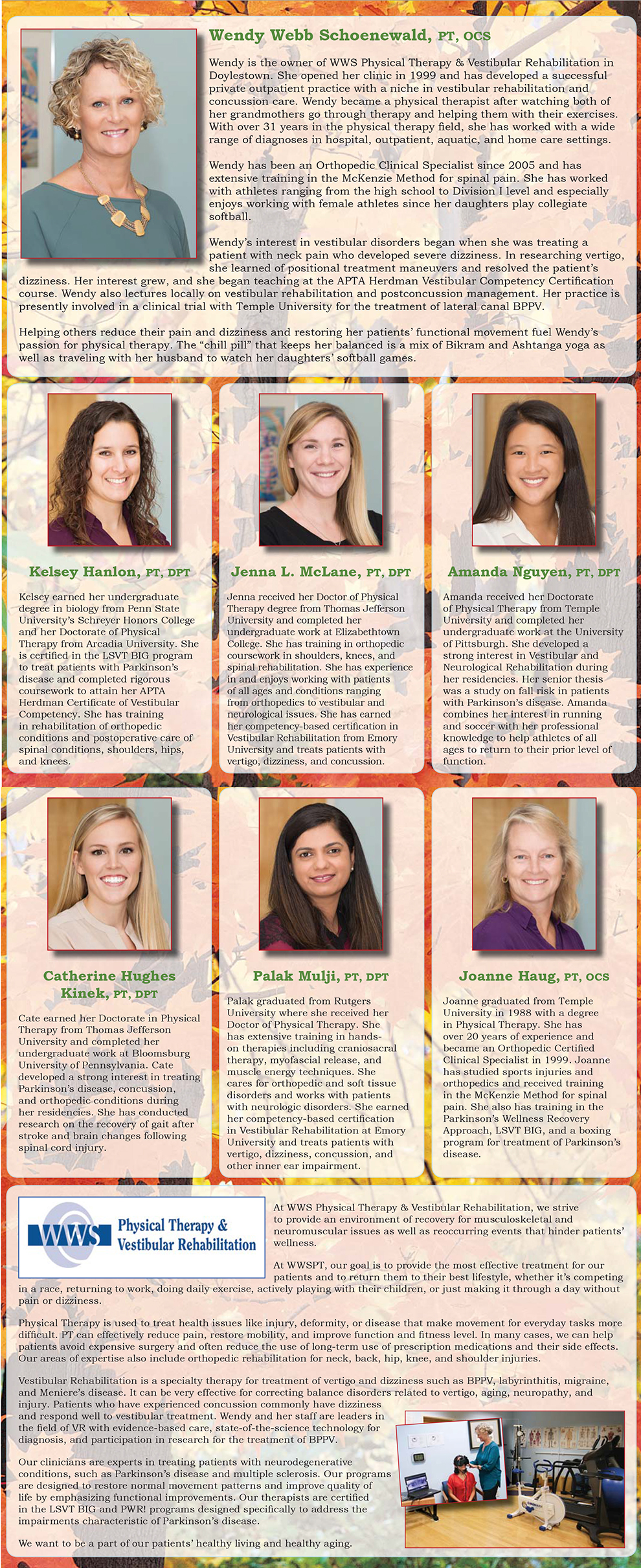 Read more: http://buckscountywomensjournal.com/…/22_23_profiles_Spread…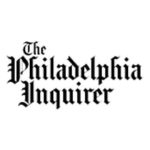 May 24, 2017. The Philadelphia Inquirer Interview with Wendy Webb Schoenewald, PT, OCS.
Wendy Schoenewald explains the Epley Maneuver to Treat Inner-Ear disorders. Getting The Word Out About A Common, Fixable Cause of Vertigo: Ear Rocks.
"The Epley maneuver works for the posterior canal, which is most commonly affected," said Wendy Webb Schoenewald, a Doylestown physical therapist who specializes in treating inner-ear disorders. "But we do a different therapeutic maneuver for each of the canals."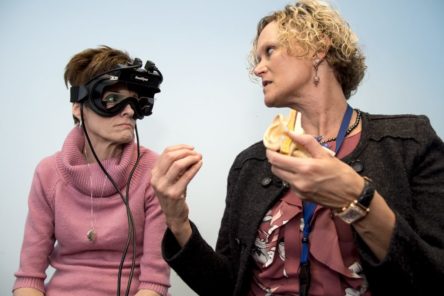 The new guideline says that when the diagnostic maneuvers confirm suspicions of BPPV and the patient has no inconsistent symptoms (such as paralysis, a sign of a stroke), then the clinician should not order X-rays, an MRI, or tests to assess inner-ear function. Because unneeded studies are often performed, the price tag just to diagnose BPPV is near $2 billion a year, the experts estimate.
However, their guideline does not discourage the use of a high-tech aid that Schoenewald has invested in $10,000 video binoculars worn by the patient during the maneuvers. The infrared glasses magnify and record the patient's eye movements so Schoenewald can watch them on a computer screen, and later replay the video to analyze the telltale twitches.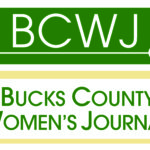 Check out Bucks County Women's Journal articles written by the caring and knowledgeable Staff at Wendy Webb Schoenewald Physical Therapy and Vestibular Rehabilitation.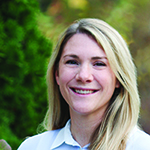 August/September 2017.
Summer and Fall Should Mean Racing Season, Not Injury Season
by Jenna L. McLane PT, DPT
Running is a great form of exercise. It is relatively accessible to all and requires little to no equipment, making it an efficient and cost-effective way to improve overall health. For many years, it has been debated whether running increases the development of osteoarthritis, raising concern over its benefit, but recent literature published in the Journal of Orthopedic Sports Physical Therapy suggests recreational runners are actually at a lower risk of osteoarthritis in joints compared to non-runners. Good news for those who love the sport!Unfortunately, the bad news is that running is associated with high rates of injury, with some estimates as high as 79% of runners reporting that an ache or pain interrupted their training at some point in time. The most common type of running injury is that of overuse. These injuries tend to occur due to training too often, too fast, or too far—sometimes a combination of all of the above.
Overuse injuries are multifactorial and often result from imbalances in muscle strength and flexibility, individual anatomy, and body mechanics, and changes in training. Many times, we see runners when their pain is preventing them from training. This often occurs a few short weeks before an event they have been training for, leaving them with a time crunch for rehabilitation. Learn More about RUNNERS' TRAINING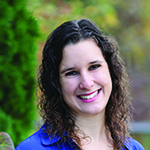 April/May 2017.
Treating Parkinson's Disease With Physical Therapy and Exercise by Kelsey Hanlon, PT, DPT
At WWSPT, we specialize in treating patients with various neurological disorders including Parkinson's disease (PD). According to the Parkinson's Disease Foundation, more than 10 million people worldwide are living with Parkinson's, and 60,000 Americans are diagnosed each year.
Although the specific cause of PD is unknown, it is believed that both genetic and environmental factors contribute to the risk of developing the disorder. There is no cure, but the good news is that use of medication combined with exercise can significantly slow the progression of the disease and, in some cases, may actually reverse some of its effects.
In an individual with PD, there is a loss of dopamine-generating cells in the substantia nigra—an area of the brain that helps to control movement. Therefore, many of the signs of the disease manifest as motor symptoms. The four most common symptoms are:
• a resting tremor
• the slowness of movement known as bradykinesia
• rigidity that causes stiffness in the muscles of the arms, legs, and trunk
• difficulty remaining steady when standing upright known as postural instability
February/March 2017. 
Craniosacral Therapy and Myofascial Release Effective for Pain by Palak Mulji, PT, DPT
Headaches, dizziness, neck pain, and migraine are very debilitating and affect an individual's daily function. At WWS Physical Therapy and Vestibular Rehabilitation (WWSPT), many of our patients suffer from a combination of these problems. For many people, these symptoms are difficult to manage through medication alone and often are combined with balance deficits that can further complicate treatment.
According to the National Institute on Deafness and Other Communication Disorders (NIDCD), 4% (8 million) of American adults report a chronic problem with balance, while 1.1% (2.4 million) report a chronic problem with dizziness alone. One National Institute of Health Statistics survey indicated that low-back pain was the most common patient complaint (27%), followed by a severe headache or migraine pain (15%), neck pain (15%), and facial ache or pain (4%).
Treatment with craniosacral therapy (CST) and myofascial release (MFR) technique
along with stretching and strengthening exercises can help to alleviate symptoms and restore function
Learn More About